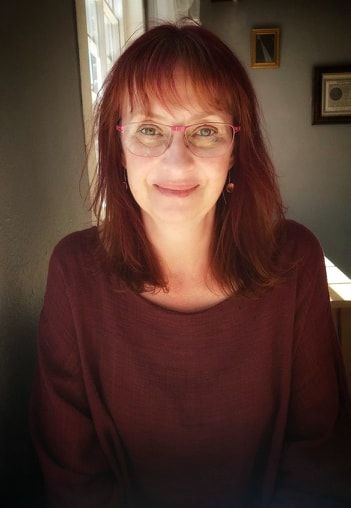 Fiona's work is almost always about colour, which she explores in depth in various media. She is intrigued by the fact that a simple spectrum of light can have such an emotional pull for us. Thematically, Fiona is drawn to imagery from the distant past, lost meanings and the natural world.
A dyer at heart, she works with both natural and man-made colours, in textiles, on paper and especially with anodised aluminium. Fiona takes great pleasure in teaching and sharing her knowledge of the colours locked within the natural world.
"Process inspires me, whether in felt-making, dyeing or metalsmithing. I like my work to grow organically, with the results of each step suggesting the next direction to be taken. Being surprised and slightly off-kilter makes me feel at my most creative, leading me in unexpected directions which otherwise wouldn't occur to me."
The partially anodised sheets of metal are patterned with text, hand carved lino prints and found objects, then the whole piece is over-dyed and the anodising is completed. The patterns often have an initial meaning which is deliberately lost and dispersed once the metal is cut and formed into jewellery.